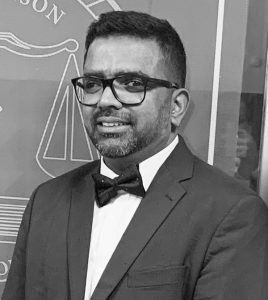 Director/Solicitor
Founder of David Benson Solicitors - 2014.
Head of Immigration, Housing, Property, Civil Litigation and Employment Departments.
Mr. David Mariampillai qualified as a Solicitor in 2010 and holds a LLB from the University of Colombo in Sri Lanka. He is also an Attorney at Law of the Supreme Court of the Democratic Socialist Republic of Sri Lanka since 2006.
David , has his own passion towards Immigration matters, and he specialises in private and publicly funded Asylum & Immigration applications, appeals and commercial migrations including Tier 1 Entrepreneurs application, Tier 2 Skilled workers application and Tier 5 Temporary Migrant Applications. He continues to represent Charities, Multinational IT Companies, Restaurants, Churches, Firms, Recruiters, Companies and Sports Clubs.
He represents clients in all levels such as Home Office, First Tier Tribunal, Upper Tribunal, High Courts and Court of Appeal and the European Courts of Human Rights; he has been successful in establishing reported case laws.
He is the supervisor for Housing in the Legal Aid Agency and represents clients with homelessness issues. David also heads the department for Civil Litigation and advises on Debt matters.
David is also the head of the Employment Department. Along with his Employment team, he has successfully represented clients against notable international firms and business.
He has an excellent reputation amongst Asian and African communities and he continuously to proves his knowledge and experience by delivering high success rate.
Hourly Rate- £265 plus Vat
What clients say
I thank solicitor David Thayabaran & his team for successfully getting my ILR Visa and all my family members ILR Visas. Six times, I have applied Visas (Tier 2 and ILR) for me and my family members through him. Five times, Visas were granted successfully in very short time period except first Visa which was rejected by the negligence of UKBA. That was also rectified by his first attempt in the court. Without any court arguments, my Visa was granted in the court by his proceedings. The solicitor fees were very reasonable & acceptable too. We are very obliged for his support and guidance to get ILR for us. I highly recommend him and his firm.
I Highly Recommend this firm !!! I would not like to go in to too much detail but let me just say I was having to deal with a complicated situation with regards to my visa, David from David benson Solicitors provided me excellent advise and delivered results as promised.I'm very glad I used this Solicitor firm and they are professionals at what they do. They also have a good variety of skilled admin staff which complements the Solicitors. Highly recommend this firm !!!